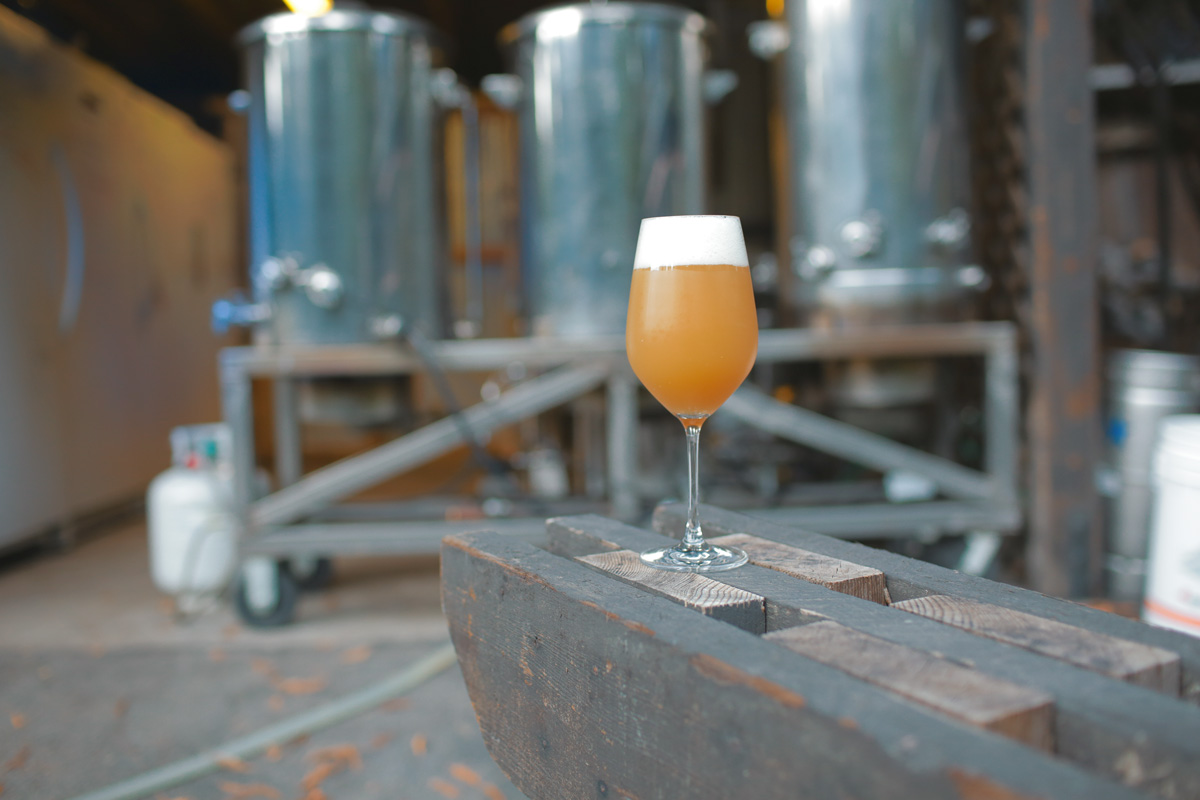 Cut & Run
West Coast IPA | 6.8% ABV | 65 IBU
You dropped anchor three hours ago. The sun is going down. The search party should have been back by now. British ships are on the horizon. You hear cannons firing. Cannonballs splashing closer and closer. What do you do? A refreshing IPA hopped with Citra, Centennial, Simcoe and Chinook. Grapefruit upfront, accompanied by a layered, citrusy aroma. Crisp maltiness. At nearly 7% ABV, it might be just enough to help you forget the difficult decisions you've had to make along the way.
Socks & Sandals
New England IPA | 6.4% ABV | 61 IBU
One part fashion statement, two parts comfort. Three parts embarrassing the kids. We named this beer after our favorite Santa Cruz tourist phenomenon, in hopes that our beer might someday be just as popular. An unfiltered IPA made with oats, Citra, Centennial, Simcoe, and Chinook, using less traditional hopping techniques. More juicy and aromatic with less bitterness up front.
Double Socks and Sandals
IIPA | 7.9% ABV | 75 IBU
More Socks and Sandals than that one time The Beach Boys played a free show at the Santa Cruz Boardwalk. This double IPA is warm, fuzzy, and comfortable, yet practical. Simple, yellow malt bill made chewier by oats; creating a grand stage for big hop aromas and flavors from Centennial, Citra, Chinook and Simcoe.
New Zengland
New England style IPA | 6.6% ABV
[pronounced New Zing-land] AKA An Aussie in Burlington. We married two of our favorite beer profiles: a juicy, cloudy, straw-colored New England style IPA, paired with three of our favorite hops from New Zealand; Nelson Sauvin, Motueka and Southern Cross. This unfiltered beer has an incredibly soft mouth feel to compliment the hop characteristics of white wine grapes, gooseberries, and fresh-squeezed citrus.
Tiki Decor
Lactose IPA | 6.8% ABV
We're a beach tourism town. We like tiki decor. We're all guilty. Let's just embrace it. Let's drink fruity drinks from big ol' ships with bamboo and grass skirts surrounding us. Carved wooden masks, coconuts, and colorful little umbrellas. If this isn't nice, I don't know what is. Tiki Decor is a series of lactose IPAs infused with vanilla beans and rotating fruits. We choose a complimentary fruity hop profile and let loose with additives. Check our tap room and social media for the latest iteration.
Mankini
New England style IPA | 6.4% ABV
It leaves nothing to the imagination. All upfront, all right there for the world to see. It says "here I am!" and is not ashamed. It says it has nothing to hide and means it. Bold like neon. Brave like new love. This beer puts itself out there in new and inventive ways. We used extra soft water, oats, and wheat to give Citra and Galaxy hops the confidence to dance bravely along the shore with a maybe slightly embarrassed Vermont Yeast in tow.
Fruit of the Loin
New England style IPA | 6.4% ABV
An IPA bursting with melon, tropical fruit aroma, and just a pinch of lime zest.
We hopped it with Vic Secret, Motueka and Citra and balanced it with a light malt bill.
"Fruit of the Loin" may be a stretch of a pun about the hop Vic Secret but we're excited about what these hops are doing as they interact with our soft water profiles and supportive malt bills.
Tiny Umbrella
Tropical IPA | 6.5% ABV | 62 IBU
This IPA sits somewhere between the west and east coasts in terms of style, water profile and malt bill. Hopped with some of the sexiest hops to our name — Nelson, Mosaic and Citra — we compliment these tropical fruit notes with a yeast that introduces a slight funk over time. Pineapple, mango and supporting characteristics of peach come forward on the nose and it finishes dry and slightly bitter to satisfy them crazy west-coast palates.
Walk the Dank
IIPA | 8.3% ABV | 75 IBU
We took the stinkiest, stickiest, dankest hops we could get our hands on, we lined them up, accused them of attempting a mutiny, and one by one we marched them off the plank and into a whirlpool of thick, delicious wort. Death to Simcoe! Death to Mosaic! Death to Nelson!
Pool Party
Tropical Pale Ale | 5.5% ABV
CANNONBAAAALL! Aside from your landlord and people who are deathly afraid of water, who doesn't love a good pool party? An unfiltered tropical pale ale brewed with Citra, Nelson Sauvin, and Mosaic hops. Very juicy and aromatic with notes of pineapple, papaya and citrus fruits.
Water Wings
Wheat Pale Ale | 5.5% ABV
So what if everyone's laughing at you? They don't know what it's like to feel as free as you do right now. Drifting in a pool, belly up, arms upheld by water wings. They can have their horseplay and diving competitions. They can have their belly flops and noodle fights. Just as long as they don't splash your beer: a pale ale brewed with wheat creating a dry refreshing pale ale. Paired with El Dorado and Mosaic hops to provide a fruity character with hints of tropical fruit.
Tourist Town
Pale ale | 5.6% ABV | 35 IBU
We brewed this throwback-style West Coast IPA has an homage to the town we all love, and to the beautiful tourists who make it all possible. Well, not all possible. The traffic sucks. A dry refreshing pale ale with a simple malt bill. Brewed with Chinook, Centennial, and Amarillo hops creating a spicy citrus flavor with floral and citrus aromas.
Toy Boat
Pale ale | 5.4% ABV | 35 IBU
Did you say it five times fast? I bet you tried. Now wet your whistle with this crisp little pale ale and try it again. Toy Boat Toy Boat Toy Boyt Tow Bowt. Anyway, this thing has Citra and Motueka hops, which give a little edge to an otherwise very round body. Munich malt adds a little intrigue that might have you saying the name five times slow. Like over the course of a few hours at the bar.
Wetsuit Dreams
Mosaic Single hop pale ale | 5.5% ABV | 35 IBU
A single hop pale ale brewed with oats and strictly Mosaic hops. A dry, refreshing base with the Mosaic hops lending a complex array of tropical fruit, citrus, berry, herbal, earthy and pine characteristics.
Short Shorts
Citra Single hop pale ale | 5.8% ABV | 40 IBU
More refreshing than a cool breeze on your upper thigh on a hot summer day. Tropical fruit and citrus notes on top of a soft body. Our simple, straw-yellow base pale ale is complemented by every hophead's first love: Citra. Famous for versatility, sass, and 90s sex appeal, you might say Citra hops are the short shorts of the beer world.
Sauvin Problems
Nelson Sauvin Single hop pale ale | 5.6% ABV | 36 IBU
Starting a brewery ain't easy. We've dodged falling chandeliers, propped leaning fermentors up with 2x4s, and put out more than one literal fire. Oh, and there's the ever present lack of money. Do you hear us complaining? Absolutely. But at least we're figuring it out. This simple pale ale is our answer to the Nelson question. Conflicting notes of diesel and white wine, cat pee and passion fruit, burnt rubber and gooseberries. Nelson is one of the most talked about hops in the industry. This beer doesn't quite fix our problems, but it makes them kinda worth it.
Amarillo Boy
Amarillo Single hop pale ale | 5.8% ABV | 38 IBU
Part of a pale ale series that's all about the hops: Amarillo Boy is flowery, spicy, and orange-like to the nose (however long your nose may be). A clean, thirst quenching maltiness quickly makes way for the pleasantly bitter, grapefruit and orange flavor of the generous amounts of Amarillo hops. We're not lying, we think you're going to love this one— but, hey, no strings attached.
El Dorado Pale Ale
Single Hop Pale Ale | 5.6% ABV | 36 IBU
Dry single malt, single hop pale ale with 100% El Dorado hops. Big fruit aroma with notes of tropical fruit and stone fruit.
Allie Blonde
Blonde Ale | 5.1% ABV | 25 IBU
A blonde ale combining traditional styles with a west coast twist. The hops provide tinges of spicy and citrus notes, balanced by sweet and fruity Belgian flavors. Light and less complex than many other Belgian styles, yet very flavorful.
SMaSH Saison
Single Malt, Single Hop Saison | 6.2% ABV | 22 IBU
Feeling like you just finished a long day of farming under the hot Belgian sun? This one's for you. Golden, crisp, peppery, and satisfying. We use only Pilsner malt, Sterling hops, SLV Water, and a blend of French and Belgian Saison yeasts to bring you the new ideal summer beer.
Le Jetski
Hoppy Saison | 6.3% ABV | 36 IBU
That's French for Jetski. Here's a light, dry and refreshing body paired with Nelson Sauvin and Lemon Drop hops which provide a bite of lemon and grape. Dry hopped for enhanced pleasure. This saison will get you feeling freer than a jetskiing Frenchman on holiday.
French Boyfriend
Rye Saison | 6.2% ABV | 29 IBU
Rye and Munich malts provide the base of this beer with Motueka hops creating a refreshing fruit flavor. The result is a dry, malty saison with tons of flavor.
Ship Happens
American Stout | 6.0% ABV | 36 IBU
Alright, so the jigging won't jig, the Roger isn't very Jolly, and the rudders are rusty. The plank is crooked, the main sail shrank in the wash, and somebody misunderstood the meaning of "poop deck." Well, you know what, buddy? Ship Happens. Have a beer and take care of business. An American Stout brewed with oats and roasted barley creating a rich, creamy body with hints of baker's chocolate bitterness.
Le Farmers Tan
Harvest Saison | 5.3% ABV
Light refreshing saison with Pilsner and wheat malts. Mild bitterness from hops grown in the Santa Cruz Mountains including Sorachi Ace, Spalt Select, and Saaz.
Feijoa Saison
Fruit Saison | 6.7%
Crisp, dry saison with Pilsner, oats and wheat malts. Mild bitterness and re-fermented with locally sourced Feijoa fruit, also known as pineapple guava. The feijoa fruit adds a perfume like quality with fruity undertones of pineapple and guava.
Boogie Board Nights
Porter | 6. 0%
Some nights the ocean calls to you in your bed. Perhaps you left your window cracked open and you unknowingly let in her alluring breeze. It's too late anyway, you're not sleeping any time soon. You grab your boogie board and some slippers and step out into the dark. This full, chocolatey porter will be waiting for you when you get back.
Hitch
100% Oak-Fermented Saison | 6.1% ABV
A base barrel-fermented saison with a delicate balance of barnyard funk and Belgian spice; a mild tartness softened by French Oak. This classic saison recipe with a dry finish was made with history in mind.
Tumble
Dry-hopped Saison Fermented in Oak | 6.1% ABV
A dry-hopped version of Rolling Hitch, their barrel house saison. Hopped with Citra and Amarillo to accentuate the citrusy bouquet of tropical fruit and tart funkiness.
Splice
Oak-Fermented Spiced Saison | 6.1% ABV
A 100% oak-fermented saison infused with white peppercorn & lemongrass to bring out an earthy complexity among notes of citrus and funk.
Playita
Mexican Lager | 5.1% ABV | 12 IBU
Our distinct savory interpretation on a classic Mexican lager. A light refreshing lager brewed with corn and fermented with a Mexican lager strain that packs a succulent punch.
Playa Grande
Mexican IPL | 6.4% ABV | 52 IBU
A big, complex Indian Pale Lager brewed with flaked maize. Powerful tropical fruit and grape notes.
Playa Grande Jalapeño
Mexican IPL Dry-hopped with Jalapeño | 6.4% ABV | 52 IBU
A big, complex Indian Pale Lager brewed with flaked maize. Powerful tropical fruit and grape tastes. Our Playa Grande batch is dry-hopped with jalapeños to complement the the toasted tortilla notes with spicy aromas and a smidge of pepper in the mouth.
Barrel Aged Playa Grande
Mexican IPL aged in Agave barrels | 9% ABV | 52 IBU
Do you love top-shelf tequila? If you said yes, get this beer now. If not, you may want to hold out for our whiskey barrel aged line. We asked our Playa Grande Mexican IPL to take a time-out inside freshly-emptied Agave Barrels from the local distillery, Venus Spirits. The result is a smooth-bodied, sweet, vanilla and barrel-forward tequila and beer marriage that you won't soon forget.
Maritime Medicine
Lemongrass and Coriander Lager | 5.5% ABV | 22 IBU
A German pilsner(ish) lager with hints of wheat and caramel malts. German noble hops are used in conjunction with crushed coriander and lemon grass to provide a refreshing and energizing taste. A medicine that remedies like no other.
Vienna Voyage
Vienna Lager | 5.8 % ABV | 26 IBU
A traditional Vienna Lager brewed with Vienna and Munich malts that deliver a smooth carmelly mouthfeel with notes of light peppery spices and a smidge of mint.
Yacht Club
Dry-hopped Belgian Lager | 4.9% ABV | 19 IBU
Pilsner, vienna and wheat malts provide the base for this beer along with Belgian candy sugar. The crushed coriander and Nelson Sauvin hops are used to create unique and distinguishing Belgian lager. The Nelson hops lend a grape character conveying an almost champagne-like quality. Bottoms up, smooth sailing.
Oktoberfest
5.6% ABV | 22 IBU
Traditional German amber lager. Sweet smooth maltiness and a creamy candied mouth feel.
Ventana Spruce Pale Ale
Experimental American Pale Ale | 6.0% ABV | 36 IBU
This ambitious pale ale was made in collaboration with local, sustainable surf company Ventana Surfboards & Supplies. A piney, earthy, evergreen pale ale made with fresh spruce tips and Chinook, American Golding, and Centennial hops.
Ventana Cedar Saison
Experimental American Pale Ale | 6.0% ABV | 36 IBU
Beer #2 in our series of wood-infused experimental beers with our favorite local surf company, Ventana Surfboards & Supplies. This time we brewed a simple, house saison base beer and infused it with cedar spirals to compliment that spicy, earthy and yeasty character we know and love in saisons.
Continental Breakfast
Coffee IPA | 6.9% ABV | 55 IBU
Dry simple malt bill with moderate bitterness from Citra, El Dorado and Nelson Sauvin. Kenya Gatomboya coffee from Verve Coffee Roasters creates notes of juicy guava and concord grape.
Jitter Me Timbers
Coffee Breakfast Stout | 5.0% ABV | 36 IBU
We're not implying that you should drink beer for breakfast, we're just saying we it would be nice to have a beer like this while sitting on a wharf with a fishing pole at 6 am, fighting off the chill, and waiting for a bite. Brewed with plenty of roasted barley and flaked oats and paired with Verve Coffee Roasters' House Blend. The result is a marriage of a rich, creamy body and a baker's chocolate bitterness. It's almost like having a strong black cup coffee. Almost.
My Morning Speedo
Coffee Saison | 6.7% ABV | 25 IBU
Picture an early morning stroll along the beach in your briefest swimwear; coffee mug in hand, cool breeze blowing through your, well, everything. Our first coffee saison made in collaboration with Verve Coffee roasters, brewed with Pilsner, rye and wheat malts and paired with Verve's single origin Ethiopia Layo Teraga beans, resulting in a bright and spicy saison with the coffee imparting subtle berries, vibrant acidity, and delicate complexity.
Very Piney Pale
Pale Ale | 5.5% ABV | IBU 38
A collaboration with our biking neighbors at Santa Cruz Bicycles. Simcoe, Chinook, and a simple grain bill deliver a delicate balance of citrus and pine flavors with a golden straw coloring. Pleasant, gracious and well rounded. The name is a play on the VPP bike system that SCB created!